Beard Deer is a member of Ludo's army. He is sometimes seen standing guard next to Ludo's throne.
Appearance
Beard Deer is a tall, muscular light blue monster with deer-like antlers, a reddish-brown beard, darker blue marks under his eyes, and a stitch on his forehead. He wears a hoop earring on one of his long ears, a sleeveless white shirt, turquoise pants, and dark purple boots.
Sightings
Gallery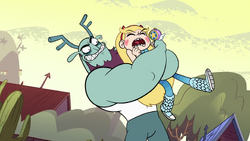 Click here to view the gallery.
Trivia
Beard Deer's name originates from the game Star vs. the Dungeon of Evil and the episode "Marco Grows a Beard".

"Marco Grows a Beard" also reveals that Ludo took him in from off the streets.

Beard Deer is also called Deer Beard in the Disney XD online game Ludo's Monster Match.
v

•

e

•

d

Star vs. the Forces of Evil Characters
Ad blocker interference detected!
Wikia is a free-to-use site that makes money from advertising. We have a modified experience for viewers using ad blockers

Wikia is not accessible if you've made further modifications. Remove the custom ad blocker rule(s) and the page will load as expected.