Jackie Lynn Thomas is a student at Echo Creek Academy. Marco has a crush on her, of which she is made aware in "Sleepover", and the two start dating in "Bon Bon the Birthday Clown".
Appearance
Jackie has wavy, shoulder-length platinum blond hair with an aqua streak on the left side, mint green eyes, and freckles. She wears a green and white raglan shirt, an orange seashell necklace, cyan jean shorts, green and white kneesocks, and blue and white sneakers. Her eyes are typically half-closed, but, like Star, when they are completely opened they overlap her bangs.
In "Brittney's Party", she wears a yellow flower in her hair, a purple top that would show either one or both shoulders, blue jeans, and beige boots. She also keeps her seashell necklace.
In "Freeze Day", she was seen as a little girl without the aqua streak in her hair, and she was wearing light blue overalls with a green and white shirt and a yin-yang necklace. She was also seen as a tween with a bit of a shorter hairstyle, still without the aqua streak. She was wearing a light blue t-shirt, purple jean shorts, white and blue socks and blue sneakers, and a peace sign necklace.
In "Sleepover", she wears a white tank-top, blue shorts with an orange seashell image on the right leg, white socks, and an orange, swirl-shaped necklace.
In "Bon Bon the Birthday Clown", she wears a sea green dress with a matching sash around her waist, her orange seashell necklace, and a red flower in her hair for her date with Marco. She wears her usual shorts and sneakers and socks underneath her dress.
In "Just Friends," it is revealed that Jackie has multiple piercings in her right ear.
Personality
Jackie is a very laidback and kind girl who is shown to enjoy and have a talent for skateboarding. She is initially unaware of Marco's crush on her until the events of "Sleepover", and she is generally cordial towards him when they interact. She has been impressed with him a few times, but sometimes displays confusion when Marco behaves awkwardly around her. On one occasion when Marco broke her skateboard, she barely displayed any anger towards him.
In "Bon Bon the Birthday Clown", Jackie is stated to have an interest in history books and mellow music, and she admits to admiring Marco's never-give-up attitude.
In "Starcrushed", Jackie is shown to drop her trademark coolness and act rather dorky around Marco; she tells him to try and read her mind, and they feed each other pizza nuggets.
Sightings
Gallery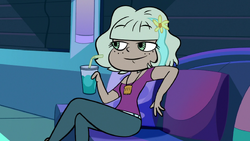 Click here to view the gallery.
Trivia
References
↑ 3.0 3.1 3.2 Season 2, episode 27: "Bon Bon the Birthday Clown"
↑ Season 2, episode 39: "Just Friends"
v

•

e

•

d

Star vs. the Forces of Evil Characters
Ad blocker interference detected!
Wikia is a free-to-use site that makes money from advertising. We have a modified experience for viewers using ad blockers

Wikia is not accessible if you've made further modifications. Remove the custom ad blocker rule(s) and the page will load as expected.