Creatures from other dimensions, magical or otherwise, that have been featured in the series.
Trolls
Green-skinned humanoids from an unknown dimension. They have immense strength, and can live to be four hundred years old. Miss Skullnick was turned into one in the episode "Match Maker."
Tiny, light blue-skinned humanoids that are native to
Pixtopia
. They have small wings and are ruled by
an empress
.
Square-shaped creatures who behave similarly to stereotypical nerds. Their home dimension is unknown, but they frequently visit the
Amethyst Arcade
.
A multi-headed serpent that is native to the
Forest of Certain Death
in
Mewni
.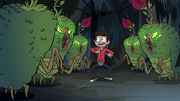 Other creatures native to the Forest of Certain Death. They are sentient bushes with beaks, yellow eyes and small, wood-like legs.
Goblins
Small green-skinned humanoids from an unknown dimension.
v

•

e

•

d

Star vs. the Forces of Evil Characters
Ad blocker interference detected!
Wikia is a free-to-use site that makes money from advertising. We have a modified experience for viewers using ad blockers

Wikia is not accessible if you've made further modifications. Remove the custom ad blocker rule(s) and the page will load as expected.