This article is about the character. You may be looking for the episode.
Miss Heinous is the former headmistress of St. Olga's Reform School for Wayward Princesses, who first appeared in the episode of the same name. In "Monster Bash", she is revealed to be Meteora Butterfly, the Mewman/monster hybrid daughter of Queen Eclipsa.
Personality
Miss Heinous wants to strictly control bad behavior in wayward princesses, forcing them to act like "proper" princesses with no individuality of their own.
Toward the end of her debut episode, Miss Heinous struggles to contain her individuality once she loses control of her emotions, and club-shaped marks appear on her cheeks.
In her first appearance, she had a habit of second-guessing her choices of words, questioning whether they were appropriate for the situation.
In her third appearance, Miss Heinous has been shown to have become deeply unhinged, desiring gruesome vengeance against Marco, and even wanting the entire multiverse to fear her. She also seems to have developed a motherly attachment to Rasticore, coddling his regenerating arm.
In "Monster Bash", Miss Heinous starts to remember her original identity after seeing her old nursery and insists that Gemini refer to her as Meteora.
Appearance
Miss Heinous has pale white skin and short, curly white hair with gray sides. She wears a purple Victorian era-style dress with black sleeves, light gray gloves, black earrings, and black high-heeled boots underneath her dress. She has a beauty mark on her right cheek, and a long, pointed nose. When she loses her poise, lavender club-like marks appear on her cheeks. In "Heinous", she wears makeup to conceal said marks, her hair is messier, and her dress is tattered due to her currently being homeless. She also wears pale red lipstick and black mascara.
At the end of "Monster Bash", she gains several monster-like characteristics: yellow eyes, sharp teeth, pointy ears, and a scaly left arm.
History
As the headmistress of St. Olga's Reform School for Wayward Princesses, Miss Heinous makes sure her staff has the princesses attending her reform school reformed into "normal" princesses. For particularly troublesome princesses, she uses the "Solitary Conform-ment Chamber", which forcibly brainwashes them into acting the way she wants them to.
Despite her best attempts, Star Butterfly and Marco Diaz infiltrate the school and cause a revolt. After they leave, she finds out via experimenting with a bobby pin Marco dropped that they came from Earth, and swears to annihilate them.
In "Goblin Dogs", Pony Head reveals that Miss Heinous has left St. Olga's.
In "Gift of the Card", Miss Heinous is seen living with her assistant Gemini in a rundown apartment complex, with very little money. She hires Rasticore Chaosus Disastervaine to find and destroy Star and bring Marco to her as revenge for what they did to her. However, Rasticore fails, and his hand is delivered back to Miss Heinous, to her displeasure.
In "Heinous", she, along with Gemini and Rasticore's slowly regenerating arm, comes to the Diaz Household, informing Marco's parents that he has wronged her. After a brief negotiation, she is able to convince them to allow her to punish him by filming a video for the rebel princesses Marco inspired where he renounces the words he used to incite the revolt. Despite Marco saying this in a deeply sarcastic way, Heinous is satisfied with the results and departs. That night, as she prepares to sleep inside her car, she talks to Rasticore's arm, telling it she will annihilate Marco and Star, and make the multiverse "shiver in fear" of her. As she says this, she removes the makeup used to hide her cheek symbols.
In "Princess Turdina", Miss Heinous returns to the school in an effort to get control back. She reveals to her former students that the "Princess Marco" they idolize is a boy, and she also says she needs them just as much as they need her. However, the students chase her off once again, and she starts using princesses as fuel to restore her youth.
In "Monster Bash", Miss Heinous tries to steal Marco's youth, but she ends up becoming part of a conflict between Star and Mina Loveberry, during which she is revealed to be the half-breed daughter of Eclipsa Butterfly, Meteora.
Sightings
Gallery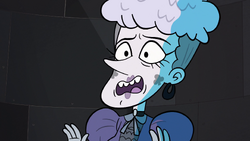 Click here to view the gallery.
Trivia
References
↑ 1.0 1.1 1.2 Star and Marco's Guide to Mastering Every Dimension by Dominic Bisignano and Amber Benson. March 7, 2017. Published by Disney Press. ISBN: 978-1484774199.
v

•

e

•

d

Star vs. the Forces of Evil Characters