Rafael Diaz[3] is Marco's father, and Star's host father while she stays on Earth. He is the husband of Angie Diaz.
Appearance
Rafael has dark brown hair, brown eyes, a thin short black mustache, tan skin, and a muscular build. He wears a yellow shirt with two dark yellow and white stripes running down the middle, dark gray pants, and yellow shoes. Under his clothes, he has a large amount of body hair.
Personality
Like his wife, Rafael is always cheerful and tends to look on the bright side of things, which combined with his child-like personality, often bothers Marco. He is also rather artistic, as he has sculpted a huge statue of Star and is shown to speed-paint in place of taking pictures while vacationing. Rafael is openly affectionate, and constantly dotes on both his family and Star.
"Hungry Larry" shows that Rafael can be very determined when the lives of his family are at risk, as shown when he single-handedly defeats the titular spirit.
Relationships
Angie is Rafael's wife. The two are quite loving and affectionate with other. Rafael can even be heard commenting on his wife's beauty on occasion.
Marco is Rafael's son, and they care for each other very much, though Marco is often irritated by his father's upbeat personality.
In "Starcrushed", Rafael gives Marco some sage fatherly advice regarding the recent awkwardness between him and Star, and playfully tousles his son's hair.
Rafael and his wife are won over by Star almost immediately. Embracing the wonderment of Mewni and its magic, he greatly enjoys having Star around, and even carves a stone statue of her head in "Sleep Spells".
Charlie, posing as "Gustav", stayed with Rafael and his family on two occasions, while pretending to be a Scandinavian exchange student. Rafael and his family hold him in high regard.
Sightings
Gallery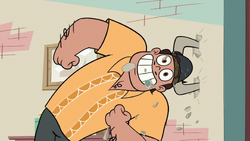 Click here to view the gallery.
Trivia
References
↑ Angie Diaz in "Storm the Castle": "We were just looking at Rafael's old book of medical illustrations."
v

•

e

•

d

Star vs. the Forces of Evil Characters
Ad blocker interference detected!
Wikia is a free-to-use site that makes money from advertising. We have a modified experience for viewers using ad blockers

Wikia is not accessible if you've made further modifications. Remove the custom ad blocker rule(s) and the page will load as expected.